Onstage with a comedy legend – Jack Carter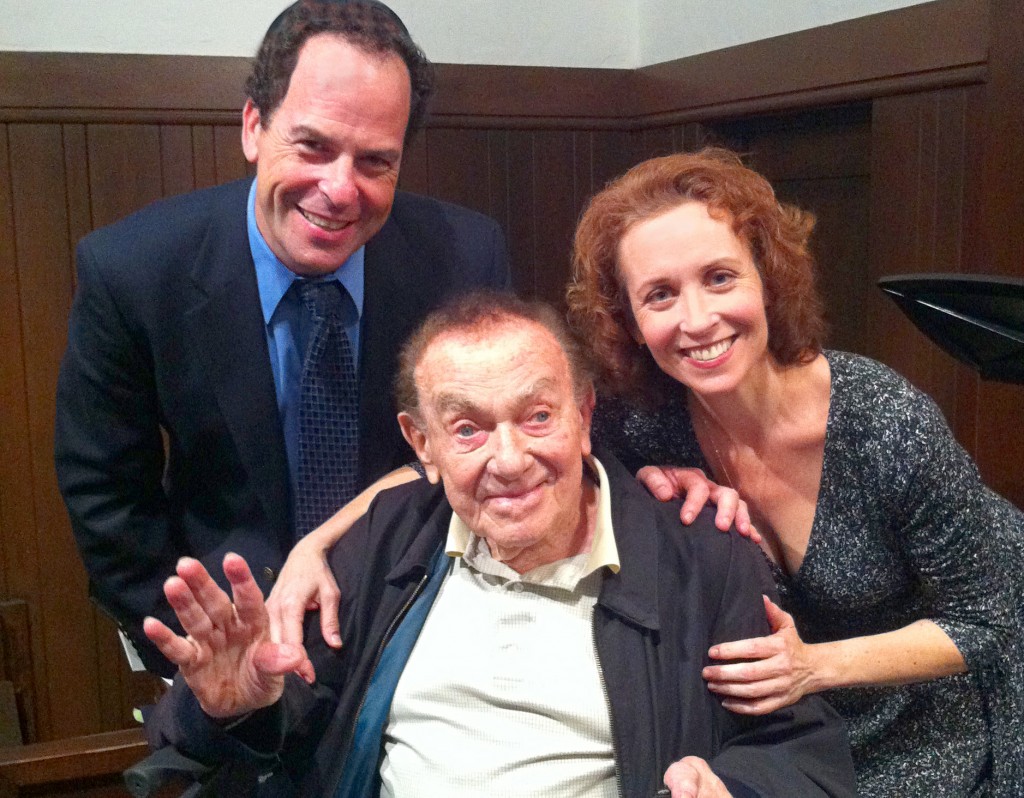 That's Entertainment!
When I was growing up there was a rare breed of performer who could go onstage, "kill" with some jokes, do a few impersonations and finish with a song and dance – then go to his or her dressing room, take a hot shower, put on a white terrycloth robe and have a little something "on the rocks" until the next show.  That's Entertainment!  Or rather, it used to be. And not just in Vegas, but in nightclubs all around the world, like the Coconut Grove in Los Angeles.
Well, I had the pleasure this last weekend of working with just such an entertainer from my youth – the legendary Jack Carter.  For those too young (or too old) to remember him, here's a CLIP  from a routine he did with another legend.  You may remember her – she became very famous after she changed her name from Frances Gumm.
I had the privilege of working with Jack and my dear friend actor Stephen Macht (who directed) in a playreading this last weekend of a rediscovered gem from Oscar-winning writer Paddy Chayefsky, called HOLIDAY SONG.  The play (actually an early teleplay adapted for the stage) is about a cantor who loses his faith in G-d on the eve of the holiest of holidays. (The cantor was played beautifully by Barry Gordon.)  Jack Carter, of course, was the comic relief in this story and he can still deliver the funny "like nobody's business." In fact, during rehearsals, Jack spoke up a couple of times to make suggestions –  "You know it would be funnier if…" – and he was exactly right each time.  And of course, he did a fantastic 5 minute "set" after the playreading and "brought down the house" (as they used to say.)
Playreadings almost never get reviewed but a member of the audience was inspired enough to write one.  Also in the wonderful cast: Bruck Nozick, Edith Fields, Jessica Blair Herman, Howard Krupnick, Jesse Macht, Monica Piper, Nolan Porter, Arnold Wise, and my frequent co-star on stage (and constant co-star in life) Kelly Lester.