BATMAN AND ROBIN TOGETHER AGAIN!
Catch Loren (Robin/Nightwing) and Kevin Conroy (Batman) at
all through 2017
► Details on my NEWS page and HERE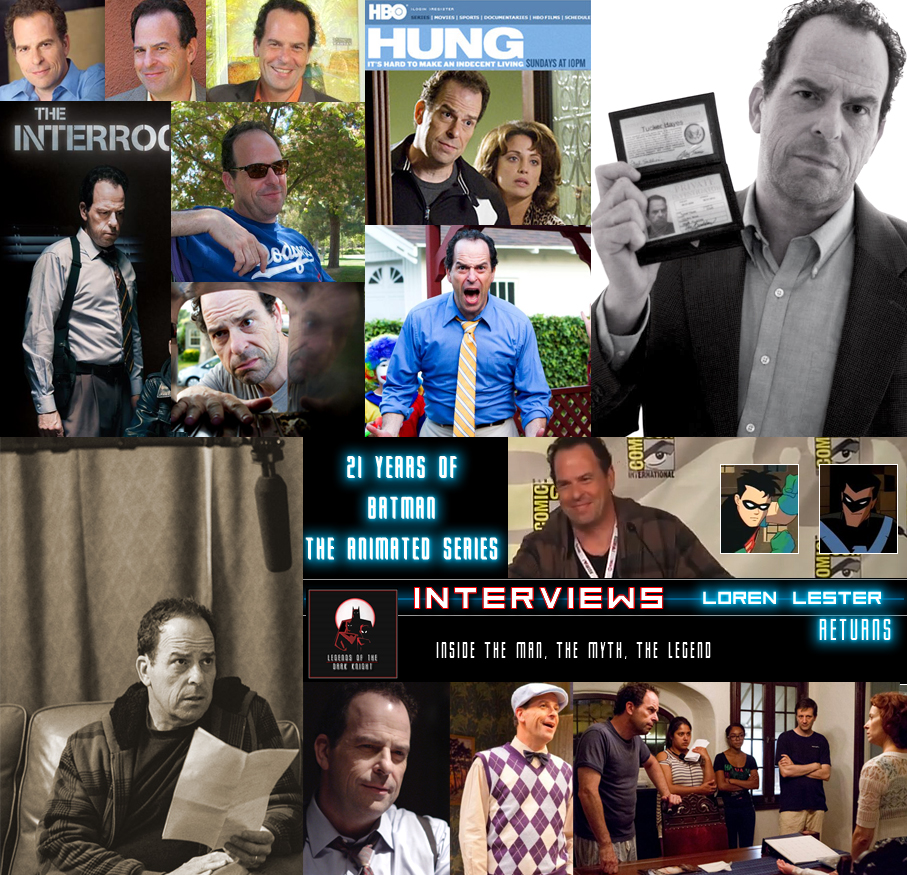 LOREN LESTER, a native of Los Angeles, began his career as a teenager and has amassed over 35 years of film, stage, and television credits. In his early years he played the evil hall monitor "Fritz Hansel" in the cult classic film Rock 'N' Roll High School, "Charlie Boy" in the horror cult film Evilspeak, and he recurred for 5 seasons as "Roy" on The Facts of Life opposite Nancy McKeon.
Since then, he has appeared in over 200 episodics including Parenthood, Bones, NCIS, Ringer, Good Luck Charlie, Curb Your Enthusiasm, Awake, The Closer, Desperate Housewives, Cold Case, Criminal Minds, Castle, Two and a Half Men, and many others.
He  recurred on all three seasons of the HBO hit comedy series Hung, and had recurring roles on Victorious (Nickelodeon), Gilmore Girls, General Hospital, The Bold & The Beautiful and The Young and the Restless.
He starred in the season finale of Final Witness on ABC, a docudrama anthology series in which he played real-life killer "Hans Reiser."
In the 2016-2017 season he can be seen in guest-starring roles on Scorpion (CBS) and the new Showtime comedy I'm Dying Up Here.
Loren has become a familiar face in the indie film scene, having had major roles in The Interrogation, A Family of Clowns, A Leading Man and Max. In 2016, Loren starred in the film A Week in London (which had its premiere at the Cinerama Dome in Hollywood) and wrapped the feature Tragedy Girls. Other favorite film roles include the Wes Craven suspense thriller Red Eye, and Midnight Clear (multiple film festival winner.)
A highly successful voice-over artist, Loren is best known for creating the roles of "Robin" and "Nightwing" on Batman: The Animated Series and The Adventures of Batman and Robin, and the role of "Barbecue" on G.I. Joe. He has recurred on The Avengers: Earth's Mightiest Heroes (as the first actor to ever voice the character "The Iron Fist") and as "Hal Jordan, The Green Lantern" on Batman: The Brave and the Bold. His voice has been heard in hundreds of TV and radio commercials and in numerous critically-acclaimed audio books and in popular interactive games such as Halo 4 and Arkham Knight (as the voice of "Kirk Langstrom/Man-Bat.")
Loren also wrote and directed the web series Let's Do Lunch, starring Sam Harris and Barry Williams, and the stage show It's Magic – The Life and Music of Doris Day, currently on tour.  He is also an accomplished stage and opera director, premiering his critically-acclaimed production of La Boheme last year.
Loren is a graduate of Occidental College's theatre department and has starred in dozens of plays and musicals. He is seen frequently in Los Angeles theatre and recently made his debut at The Pasadena Playhouse in Noel Coward's Fallen Angels.  He has also starred in productions at such venues as the Odyssey Theatre Ensemble, the Santa Monica Playhouse and West Coast Ensemble.  Loren and his wife (and frequent co-star), actress Kelly Lester, are the proud parents of three actress-daughters.