How Honda and I Surprised Monsters Calling Home

You've been "Punk'd"
They had no idea what was coming and the ad agency paced around the room, worried.  Unlike a regular commercial, where the creatives have total control over the final product, they weren't certain how this one was going to turn out – it was a big, expensive practical joke, but if it worked, they'd have a golden chance at going viral.
A terrific, albeit unknown band, Monsters Calling Home, had recorded their song "Fight to Keep" while driving around in a Honda and put a music video about it on youtube.  Although the video didn't have that many hits, through the wonders of the internet, Honda discovered it and together with their ad agency, Rubin Postaer, they hatched a scheme: they would give the band their big break.
They would pretend that Honda was inviting them to perform for Honda executives at a hotel ballroom in Hollywood (which happens to be across the street from  Jimmy Kimmel Live! which was the REAL destination for the band.)  Here's where I came in – (literally).
My part
I was to play the embarrassed Honda executive who had to convince the band that the day was a disaster – that they were only going to perform for a handful of people, and not the 600 Honda executives they had been promised, and then announce to them that it was all a big joke and that they were actually booked as the musical guests on a national TV show. I loved the whole scenario because I love improv situations. Winning roles these days is more and more dependent on ad-libbing, and two of my favorite roles – Curb Your Enthusiasm and Final Witness were completely improvised. Although there was a script, I improv'd my way through two auditions to get this role, so I was looking forward to the real thing. You can see the results below – it's funny and also very touching.  The band members are nice, good natured and TALENTED – and deserve all the success they're now enjoying.  The video has already gotten over 1.3 million views and it was named "Ad of the Day" by AdWeek and became a featured story on The Huffington Post.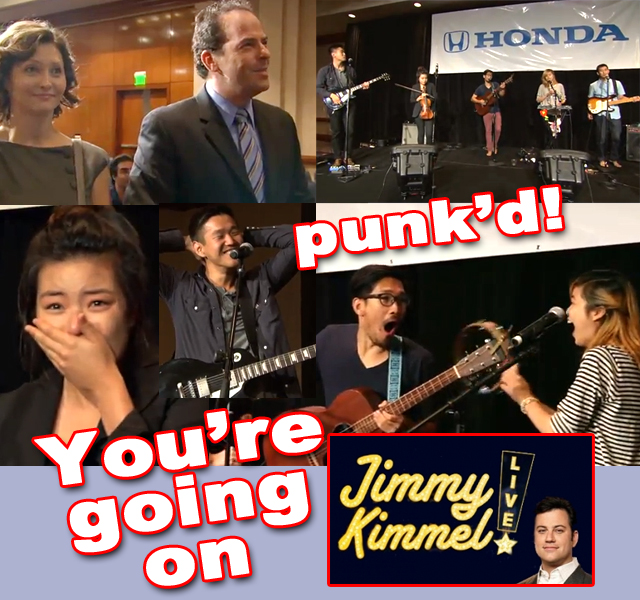 Here's how it all played out. Grab a tissue.